ILLINOISouth's Hidden Lakes
Posted on 04/28/2017 by TheTourismBureau
Who is ready to unwind and relax in the open water? ILLINOISouth is home to plenty of water for whatever you want to do whether it is fishing, boating, water sports, or sitting on the beach. Check out some of the great places to pack up and head out to when you need a little water in your life.
1. Lake Lou Yaeger
Lake Lou Yaeger in Montgomery County Lake Lou Yaeger is 1400 acres of pure fun! Enjoy boating, hiking, fishing and camping around the lake located in Montgomery County, Illinois. There is 45 miles of shoreline for guests to enjoy as well as 2 public boat ramps, a swimming beach and more.
Fishing
Lake Lou Yaeger is known for its supply of largemouth bass, white bass, crappie, bluegill, and catfish year round. For more information about usage fees, permits and regulations, please click here.
Milnot Beach
This beach features a large sand area, a swimming area, and a low diving platform. There is also an air-conditioned snack bar, shower house, and restrooms. This beach is open Memorial Day through Labor Day, Monday through Friday, Noon to 5PM and Saturday, Sunday and for Holidays from 11AM to 6PM. For information on entry fees, please click here.
Boating
There is no horsepower limit or speed restriction on Lake Lou Yaeger making it a favorite for skiers, boaters and fisherman alike. For a full list of boat usage fees, please click here. Boat rental is available through Grand Rental.
---
2. Vandalia Lake
Vandalia Lake in Fayette County Vandalia lake is 660 acres and home to 12 miles of shoreline. Although smaller than some of the other lakes on this list, Vandalia Lake isn't short of great things to do.
Fishing
The Vandalia Sport Fishing and Conservation Club work to stock the lake with largemouth bass, channel catfish, and bluegill. Vandalia Lake is also home to several fishing tournaments each year. For more information about usage fees, permits and regulations, please click here.
Camping and Swimming
Vandalia Lake provides visitors high-quality camping facilities with electric outlets and modern showers. The campground is open Mid-April through Mid October. Swimming is available at Jaycees Beach which features a large sloping sand beach with modern beach house and showers. The beach is open from 10AM to 6PM daily. For information on camping and swimming, please click here.
Boating
Vandalia Lake has a speed limit of 45 mph during the day and 10mph at night. For boat permits, please click here.
---
3. Carlyle Lake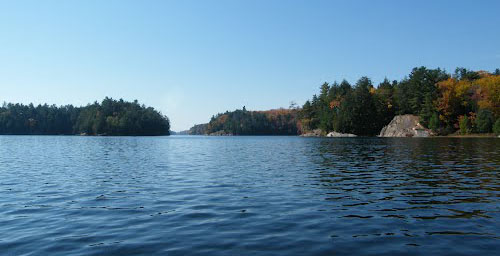 Carlyle Lake falls in Clinton, Bond, Fayette, and Marion Counties The largest man-made lake in the state of Illinois, Carlyle Lake is 26,000 acres. Located mainly within Clinton County with portions of the lake falling in Bond and Fayette Counties, this lake was created by the U.S. Army Corps of Engineers in 1967. Carlyle lake is managed for flood control purposes so the lake could change depths with the seasons and rainfall due to the Kaskaskia River and creeks that flow into it. For the most part, Carlyle is relatively shallow when it comes to lakes with a max depth of 35 ft.
Hunting and Fishing
Carlyle Lake is famous for being one of the top waterfowl hunting areas in the state of Illinois. Visitors can also enjoy hunting white-tailed deer, turkeys, squirrels, quail and rabbits. Fishing is always available on more than 2,000 acres of the lake and Kaskaskia river as well as at the spillway. Click here to see the fishing report for today.
Bird Watching
Bird watchers rejoice! Birdwatching in Southern Illinois is not complete without a trip to Carlyle Lake. Visitors will enjoy the chance to observe bald eagles, ospreys, cormorants and great blue herons, as well as numerous species of shorebirds and songbirds.
Boating and Sailing
The Carlyle Sailing Association offers visitors the opportunity to learn more about sailing and get out on the open water. To learn more about everything you need to know about sailing in the midwest, check out our blog about the CSA by clicking here. If you are looking just to cruise the lake on a pontoon or tritoon, Carlyle lake offers several boat ramps and even an option to rent a boat by the hour or for the day. To rent a boat at Carlyle Lake you can visit Dam West Pontoon Rentals.
---
4. East Fork Lake
East Fork Lake in Richland County East Fork Lake is located in Olney, Illinois in the county limits of Richland County. The lake was originally built to provide a water source to the city of Olney. The lake is 934 Acres but has plenty to see and do with an average depth of 15 feet making it the perfect lake for skiing.
Water Skiing
Enjoy water skiing and tubing on the entire lake. Boat ramps are available.
Fishing
East Fork Lake makes for very good fishing for channel catfish, largemouth bass, and white crappie. It is also rated as fair for bluegill and walleye. For regulations or a list of fishing tournaments, please click here.
---
5. Mill Creek Lake
Mill Creek Lake in Clark County Mill Creek Lake is 7 miles north of Marshall, IL in Clark County. This 811-acre lake has an average depth of 22 feet. The shore length of this lake is 45 miles providing plenty of good nooks and crannies to snag a great fishing spot.
Fishing
The best thing to fish for at Mill Creek Lake is Crappie and Redear Sunfish as well as largemouth bass, muskellunge, and channel catfish. For a fishing report and list of upcoming tournaments, please click here.
Boating
There are public boat launching facilities with a boating access fee as well as boat rentals available. Please click here for more information on renting a jon boat, pontoon boat, canoe, kayak or paddleboats. There are also dock rentals available.
Skiing and Wakeboarding
Mill Creek lake is also great for jet skiing, water skiing, wakeboarding, tubing, and more. To see all regulations, please click here.
---
6. Newton Lake
Newton Lake in Jasper County Newton Lake is located in Jasper County, Illinois and covers 1750 acres with an average depth of 16 feet. The shoreline stretches 52 miles and is a cooling reservoir. Newton Lake is best known for trophy bass fishing.
Fishing
The largemouth bass fishing is excellent at Newton lake along with the channel catfish. A close runner up is the white bass with the black crappie population improving. Boats can only be on this lake for fishing and the motor must be under 25hp.
For more infomration about the fishing and to see a list of tournaments, please click here.